Good Morning to you wherever you are in the world. My name is David Gagner-Albert. I'm a blogger from Martinique. Today, I want to make you discover one of the most popular district of Martinique. Why ! You should wonder ? So, let me guide you. If you read this article, you will be able to understand the reason why I have said that ! Do it and you will say to me. Follow me please to be enjoyed...
Where is the district of Trénelle in Fort-de-France ?
According to me the district of Trénelle is the largest and most prestigious popular district of Martinique. You may think that i am chauvinistic. You're right (LOL). The district of Trénelle is not dwelt by wealthy people. It's just the opposite, the district of Trénelle has been built by the power of poverty. But the historic, cultural, patrimonial value of that district is unvaluable.
The district of Trénelle is located upon a very great «morne » (a morne = little mountain in Martinique). Trénelle is over the district of Terre Sainville and share a very large band of land with the district of Citron. You can easily see the district of Trénelle from the road « La Rocade » after the Héroïque Vietnam round. The vision of Trenelle is very nice and panoramic.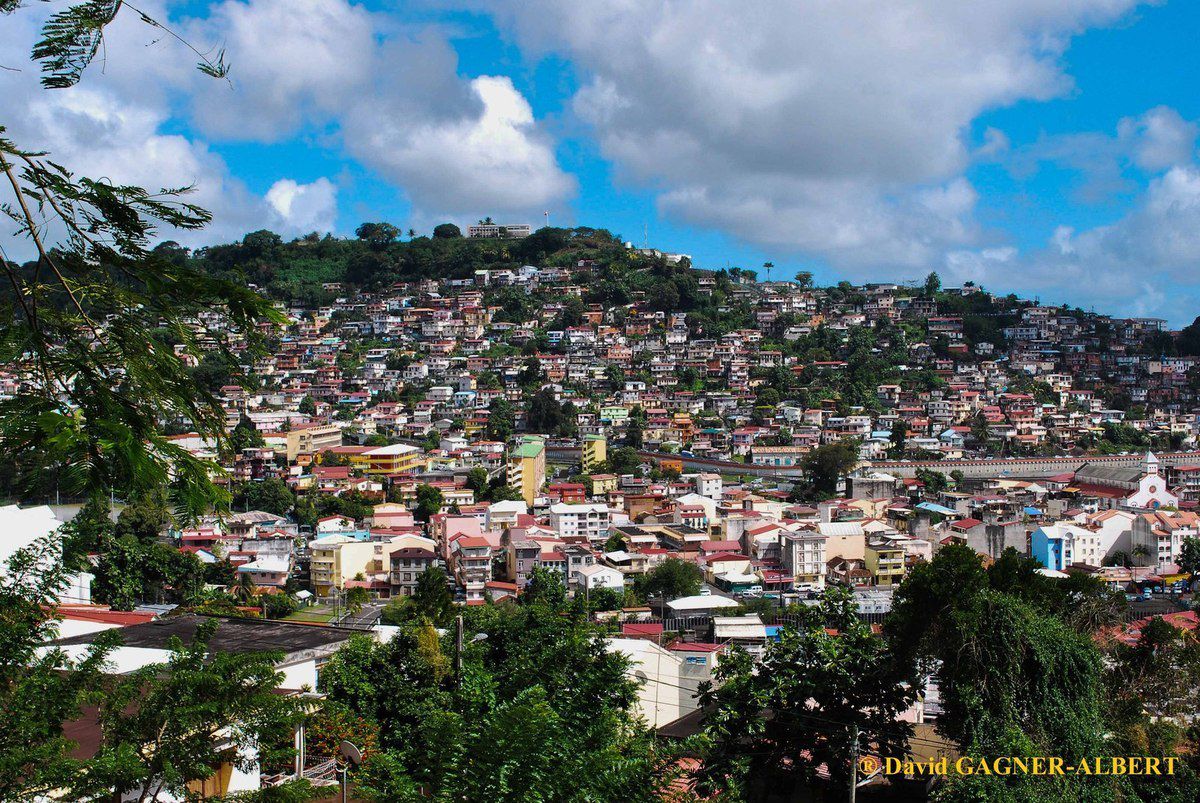 History of Trénelle district
The district of Trénelle has been erected from land over the end of 40s and early 50s. At that time, Martinique was under an rural exodus. Many Martinican people came from countries to go to live in the city of Fort-de-France. Work in factories and sugar cane fields were very hard and very bad paid.
The purpose of people who left there countries to go to Fort-de-France was to get a better life for themselves and their children. At that time there was no roads like nowadays. So, it was much more easy for children to continue their studies at the « Lycée Schoelcher » (click to see) when they lived on the capitol Fort-de-France.
That is the reason why many families who wanted to get a place to live, little by little they have taken this part of Fort-de-France we call now Trénelle. The place located on a kind of mountain (a morne) was not at all good to built, to live. It was a no man's land before their arrival. These men and women were like American pionneers. They had to tame that wild topography to make again the house they had when the lived in their countries.
They had built their house with materials they had recovered here and there. Thousand of materials have been carried by the mean of their arms and legs to stand up these houses built with the help of friends and famillies (what we call « coup de main » in Martinique). That is like that the district of Trénelle was born and has been developed to become what it is nowadays. Me « David GAGNER-ALBERT», former inhabitant of Trénelle district. I regard the district of Trénelle like one of the historic jewels of Martinique.
What is the particularity of Trénelle district

?
The particularity of Trénelle is the huge accumulation of houses built on this morne or little mountain. You are obliged to see that. It seems like some cubes. And as the various skins colours of Martinican people, it looks like heads with many colours which raise themselves like malavoi sugar canes. Here and there, it seems that vegetation wants to take back its place because you can see some breadfruits or trees mangos. That show the way the first inhabitants of Trénelle had to support oneself.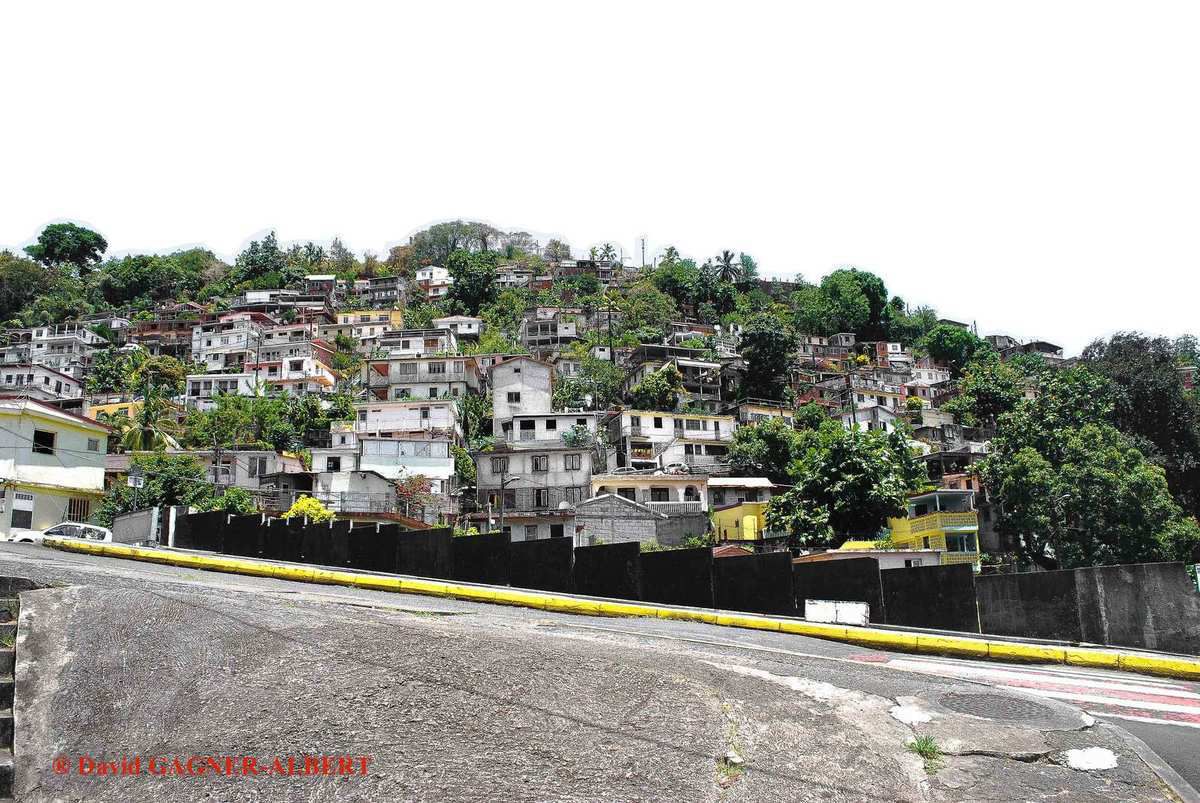 Famous streets of Trénelle district
The district of Trenelle is crossed by two streets. I think you may have heard about them. Mé wi zot sav ! Yes, you know !
François Pavilla street
The first street is called François Pavilla. François Pavilla was a famous Martinican boxer. You see ! François Pavilla street cross le district like a snake and cut it like a woman sex. I think about it like that. If you went to Trénelle district you would be able to notice that some houses have been built close to the road. You may be afraid for them. But they are very determined. y are planted there since the time where the devil was a little boy ; dépi antan djab té ti-gason.
If these houses of Trénelle were able to speak, i think they would have many stories to tell us. So many stories that my computer would not have enough memory to record all that.
« Bute » street in Trénelle
The second famous street is called « Bute » (to stumble over). Why this name, i don't know ? But it doesn't stumble over nothing at all. On the contrary, « Bute » street takes you to district of Citron (district of Lemon) or « ô Sitwon » in Martinican creole language. The district of Citron which is an extension of Trénelle district ; we say Trénelle-Citron. You see !
Places and famous monuments of Trénelle district
You can also find in Trénelle one of the most famous monument of Martinique. I speak about the Nèg Mawon monument created by the Martican sculpture Khôkhô René-Corail. The Nèg Mawon monument which symbolises the end of slavery in Martinique. Close to the Nèg Mawon monument, you have the square of « May 22 1848 » a name tribute to the slavery abolition decree.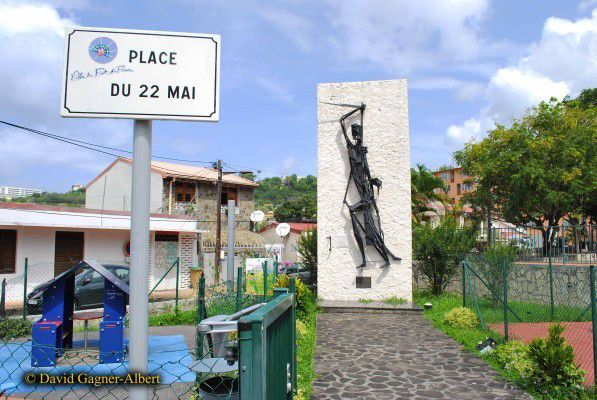 Further, there is Gérard Nouvet cultural center and the schools of Trénelle where generations of children have been educated. Much more further, there is the Trénelle-Citron waterfall which greets you. A very beautyful waterfall in the middle of the thousands houses of Trénelle. (Click here to see.)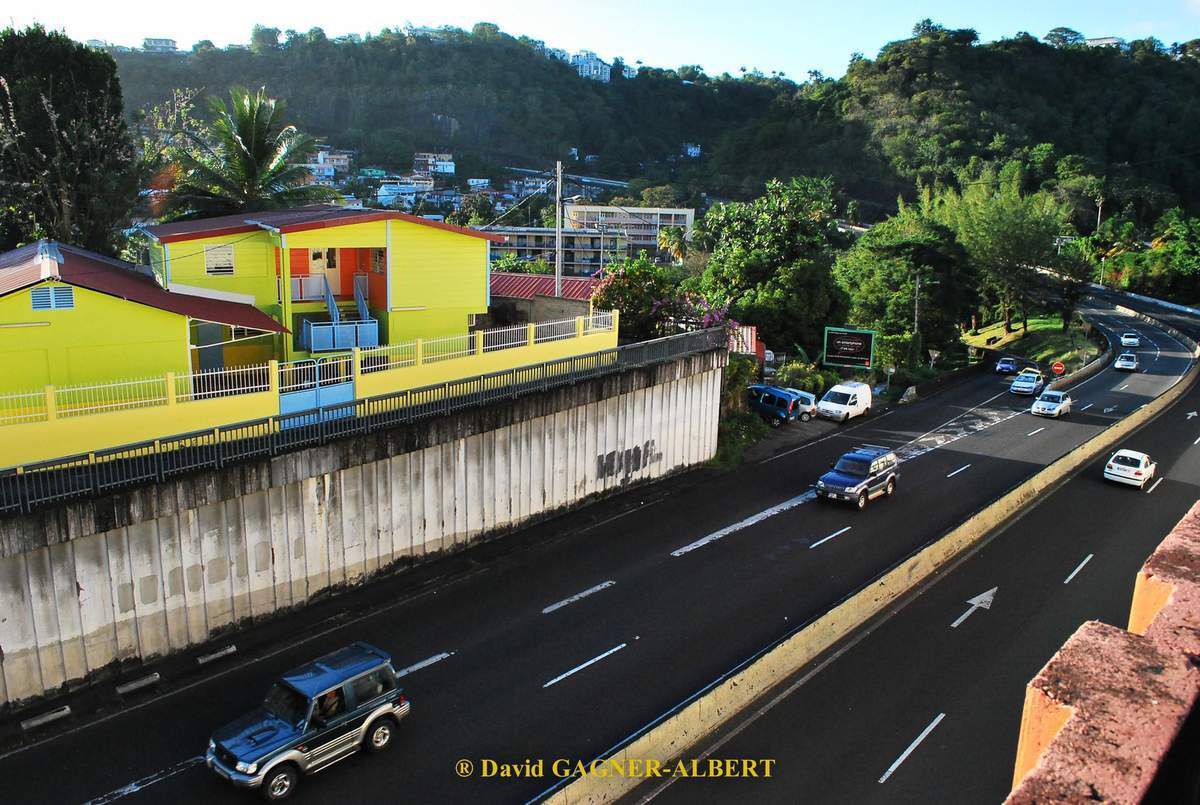 Famous traders of Trenelle district
Inside of Trénelle district, you have grocer's shops or « boutiques » which have fed many generations of Trénelle inhabitants. Smalls grocer's shops in which moneyless parents could even so relied on the generosity of the grocers to feed their children. Some families had in these grocer's shops what we call « un carnet de crédit » ; in english « a credit copy book ». A credit copy book inside was carefully written by the grocer what they had bought on credit. Some grocer's shops where children were alble to buy some sweets (Bonbon) for 1 FRANC* (*currency of the time). And when you came into these grocer's shops, you had to say « TOTOTO » to be served by the grocer because sometimes he was busied at his back shop.
I couldn't finished this article without paying tribute spacialy to two grocer's shops. There were others grocer's shops at Trénelle. But those I had personnelly frequented and have more marked my heart were the grocer's shops or « boutiques » of Miss & Mr Michel and the grocer's shop of Miss LALA. You see ! Miss Lala was a short women. A little half-cast greying hair. Greying hair as the coins she was manipulated into her box. It was very difficult for me to put an old on Miss Lala's face. I could perfectly see Miss Lala was very old. But she was so energic that you could easily think she was 45 years old. Miss Lala grocer's shop was made with brown wall tiles. When I was a child and I used to go to Miss Lala grocer's shop, I was very fascinated by the way she did her calculations.
At that time, we were at the beginning of 90's. Cash registers existed on Martinique. But contrary to Miss and Mr Michel grocer's shop which has a cash register, Miss Lala continued to do her calculations on a piece of paper.
Sometime she did her calculations on the piece of paper which has been used to wrap the morning bread. You see ! Every time I could see Miss Lala doing her calculations, that made me think how weak I was on MATH ! She used to calculate with an extrem precision. There was no place for errors into her calculations. How did she do that ? I don't know. But one thing is certain. Miss Lala is gone to the paradise with her secret. Because time had made time, and a time came where Miss Lala had to go forever. I suppose she is gone calculate with the angels.
By the name of all families in Trenelle, I say to the grocers Miss Lala and Mr/Miss Michel a great THANKS YOU. A great THANKS YOU for their help when some families were starved.
My personal story with Trénelle district
I have personaly lived in Trénelle district between 1987 and 1992. A part of my schoolarship was at Trénelle school. When I arrived to Trénelle district in 1987, I remember how hot the weather was ! And the huges stairs we had to climb to go up to our houses. I use the word « go up » because if you came into Trénelle district, you would see that is a real labyrinth mades with stairs and very small lanes which go up, go up and go up… But I had taken the habit to climb them easily.
The day when I had to leave Trénelle district which has greeted me during a part of my life, I have been very sad.
Nowadays, sometime I visit the district of my childhood. And I think that some places of Trénelle are little abandoned. But I always visit Trénelle with a huge pleasure.
That is what I wanted to tell you about Trénelle. Trénelle my former district. I hope that I have open your eyes on this wonderfull district of Martinique. If you came to Martinique, I invite you to visit that district of genius. Visit Trénelle district and you would learn that the power of will and determination can create what you think impossible. IMPOSSIBLE is not Trénelle district.
Thanks you ! Thanks you a lot for you reading ! Mèsi an chay ! An lót soley !
© 2016. All right reserved for all countries. Writting by David GAGNER-ALBERT for Lucide Sapiens Martinique.
You can read the french translation of this article. Click here and read.
Ads : You can also visit Trénelle district with me, please get in touch with me.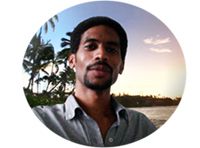 © Written by David Gagner-Albert
Phone number 0696 92 11 39 ( Martinique)
Mail : lucidesapiens@rocketmail.com